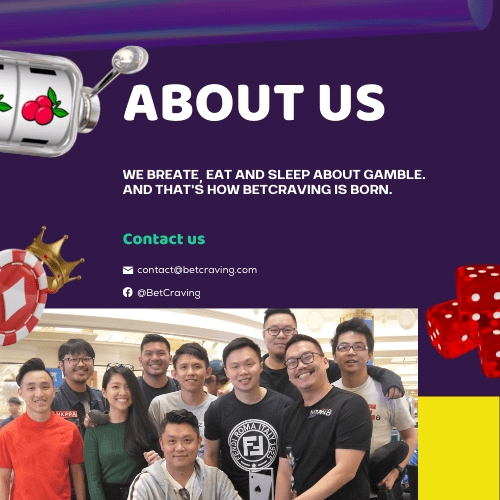 Welcome to BetCraving! We're a group of professional online and land-based casino players with more than 14 years of combined casino experience.
With the amount of knowledge and skills under our belt, we decided to start a Malaysia-trusted online casino reviews platform to share our thoughts and experiences on various gambling options.
Even though we focus on the Malaysian and Singapore market right now, our final goal is to help all casino lovers in Asia find the best online platforms and enjoy a safe, secure, and trustworthy online gambling journey.
Our Promise to You
You'll find a wide range of online casinos featured on our site. Before we go on, we want to make clear that all information found here aims to help players find the best online casino.
Our devoted team of reviewers is always ready to engage, test, and research every gambling platform. This is the only way to produce an honest, trustworthy, unbiased, and well-structured review. Such reviews will help you find relevant information and understand each featured casino world in-depth.
Our Team
BetCraving started with a couple of friends with the same passion for online gambling who wanted to transfer their knowledge to other fellow gamblers in Malaysia. We shared our thoughts and opinions on forums and social media, connecting with the Asian online casino community only to understand the ongoing need for high-quality online casinos. In addition, we wanted to educate scammed players and provide legitimate options, so such scenarios cease to exist.
Our team eventually grew from a couple of passionate gambling enthusiasts as more buffs joined our ranks. Nowadays, more than 20 people stand behind BetCraving, working tirelessly to provide a top-notch experience for anyone interested in playing casino games on the web.
What We Do
We are online casino experts. Our job is to ensure players in Malaysia have access to the best online gambling sites. BetCraving believes that the online gambling industry has a huge potential, and we want to be part of it. We help players find the type of entertainment they want and enjoy a secure gambling environment.
Here's what we cover on our platform:
Online casinos review
Casino Guide
Live score
In other words, even though online casino gambling is our primary focus, we also help football bettors improve their wagering experience by providing a live score overview of all ongoing games and sharing tips from professional bettors.
Why We Do It
BetCraving's primary goal is to find and assess online casinos available in Malaysia. Whenever an online casino appears on the market, our team will take a deep dive and carefully analyze it. Once the casino passes the initial test, we cover it and publish the review on our website. That way, we ensure that all platforms we cover are secure and trustworthy.
How We Do It
BetCraving has developed a method for reviewing online casinos that help us sort out the wheat from the chaff. Here's what we pay attention to in every review:
Bonuses and Promotion

Every online gambling platform wants to attract new players and retain the regulars in this increasingly competitive market. That's why they often feature lucrative welcome bonuses and hefty ongoing promotions.

We often start our reviews by discussing the bonus and sharing the bonus code if available. Of course, our team always scratches under the surface to find out more besides the marketed info. In other words, we carefully analyze the bonus T&Cs section to learn more about additional rules, wagering requirements, expiry periods, and more. This information helps us understand the bonus better, ultimately deciding whether it is worth it.
Available Games

The essence of every online casino is games, so our team makes sure to explore every site's gaming portfolio. We analyze the games' quality and variety, but the primary focus remains on the former.

You'll see that we list the casino game providers from each casino site we're reviewing. Thanks to that, you get a general idea of the type of content available in the casino.

If the site also features an online sportsbook or poker room, we make sure also to cover it and point out the advantages and disadvantages.
Deposit and Withdraw Options

If you want to play casino games and receive real prizes, you must open an account and transfer funds to your online casino balance. To do that, you need to use a payment method available in your country but also accepted by the casino of your choice.

That's where we come in. We analyze available payment options, discuss potential fees, and check the minimum and maximum transaction limits to help you find a budget-friendly online casino.
Licenses & Security

There are plenty of scam casinos out there, and our team makes sure you only play on the secure and licensed ones. That's why we'll cover security measures and provide important information about the license, provided that there is one to start with. Not all unlicensed casinos are bad, but a license is always a pleasant sight.
Customer Support

Your customer experience matters. Whenever you stumble upon an issue in the casino, you shouldn't hesitate to contact customer support. We always test how a customer service team operates in every casino by chatting with them using the available methods, such as live chat, email, and even phone.
Functionality & Flexibility

Finally, we test the casino on a wide array of devices, including desktop computers, laptops, mobile phones, and tablets. Of course, some online gambling sites might even feature stand-alone mobile apps, and we'll let you know if there's one and how it works.
Have Fun!
Hopefully, you now know more about us, our vision, and how we work. Feel free to explore other pages on our site to find the best online casinos in Malaysia and beyond. Also, don't hesitate to get in touch if you have a suggestion on how to improve our website further.