Esports Betting


Before we talk about Esports betting, we should ask: what is Esports? Esports are any sort of competitive video gaming that is played between individuals or teams. This type of entertainment has exploded in popularity over the past decade. As a result, which saw the birth of massive Esports tournaments played by superstar teams and players in many locations.
Millions of fans around the world tune in to watch these tournaments. Most importantly, bookmakers saw the opportunity on Esports betting with that much interest in this type of entertainment. Interested to know a bit more about this type of gambling? You are in the right place! BetCraving will explain more about it in this article.
History of Esports


The first known video game competition was held on 19 October 1972 at Stanford University, where participants competed in Spacewar. In 1974, Sega started to promote video game tournaments in Japan.
In 1970s America, Gremlin Industries held a gaming competition with their arcade snake game Hustle that involved the "Gremlin Girls". The pair traveled across 19 US cities offering players a chance to win money if they managed to win.
Up to the 2000s, there were many video game tournaments held all around the world that featured games like Space Invaders, Asteroids, Track & Field, Starcade, Street Fighter II, Counter-Strike, Quake, Fatal Fury, Warcraft, and many more.
In the 2000s, Esports was starting to become very popular. Starcraft and Warcraft competitions were regularly televised in South Korea, Germany, the US, and several other countries. During the 2010s, Esports managed to grow tremendously. As a result, there was a large increase in both viewership and prize money.
How Did Esports Get Attention From Bookmakers?
The modern Esports boom has also seen a significant rise in video games companies as well as competitions. In 2010 Nintendo hosted the Wii Games: Summer, which was lasted for over a month. It had over 400,000 participants, making it the largest tournament in Nintendo's history.
Apart from online viewership, the physical viewership of Esports competitions has also increased. For example, 40,000 fans attend the 2014 League of Legends World Championship. In 2015 in Santa Ana, California, the first Esports Arena was launched, making it the first dedicated Esports facility in the US.
With this many fans and highly popular video games, it is no doubt why online casinos are featuring Esports betting on their site.


Esports Betting Rules
You might think that Esports betting is different from traditional sports betting, but as you get to know Esports, you'll see that betting on this type of activity is the same as betting on basketball, soccer, tennis, or any other sport.
To place a bet, you first need to find a match that you fancy and then choose the desired bet. After that, you need to decide how much you are willing to wager on your Esports bet. Once you've placed your bet, now you can sit back and wait for you're the result of the bet to come in.
Different Types of Esports


There are so many genres of games, as well as many great tournaments that you can place a bet on, but there are some that stand out. We are talking about betting on games such as Dota 2, League of Legends, CS:GO, Overwatch, Call of Duty, Halo, FIFA, Fortnite, PUBG, and a few more.
Betting on Multiplayer Online Battle Arena (MOBA)
This category is extremely popular amongst E-Sport betting fans. They hold some of the biggest esports in the world, which are Dota 2 and League of Legends. By watching streams of tournaments such as "The International" and the "League of Legends World Championship", you'll quickly understand why these games are a perfect fit for betting fans.
Other games that fit into this category, which are also highly popular amongst Esports fans, are Smite and Warcraft. Over the past few years, plenty of people have won some decent prizes from participating in this event, as well as from betting on them.
Betting on First Person Shooters (FPS)
Fans that are into some explosive action can place bets on plenty of great first-person shooter games. The most popular of them all is surely CS:GO, but other games such as Call of Duty and Halo have also managed to find success in the Esports world.
By watching CS:GO matches at tournaments like the "Intel Extreme Masters", you will see how much fun you can have betting on this first-person shooter game. Other games in this category that are worth mentioning are Overwatch and Team Fortress 2.
Sports Simulators Betting
Betting on Esports teams and players that participate in some great sports simulators is very common. If you seek to place a football bet, then Esports like FIFA should be your pick to wager on. This is one of the best online casino Esports games available.
Ever since FIFA decided to host the eWorld Cup, every trusted online casino rushed to make this tournament available on their betting sites. Other popular Esports titles that are in this category are NBA 2K and Rocket League.
Other Games Available for Esports Betting
Every year there seems to be yet another game that is going to make a sensation in the Esports world. From Hearthstone, the card game, to the battle royale game PUBG, there is always something new in Esports that you can bet on.
People are also betting on simple games like Street Fighter V, while the ones that are into strategy games favor games like StarCraft II. Additional games that are worth mentioning are H1Z1 and Fortnite, which are on the rise in recent months.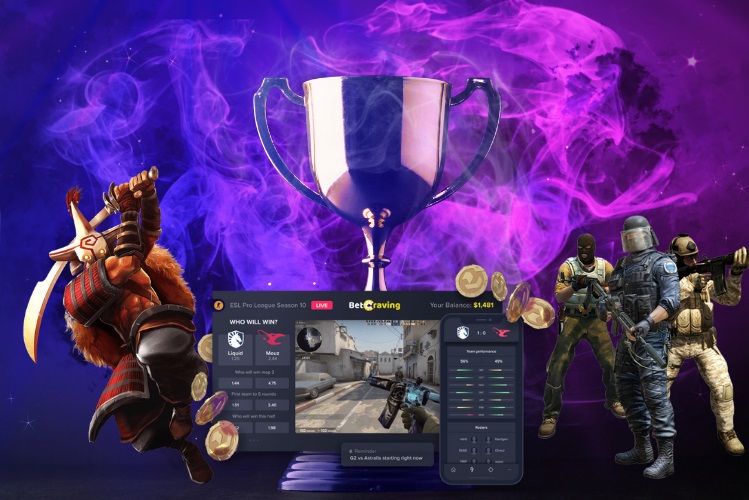 Types of Bets in Esports Betting
Real Money Betting

This is the simplest form of Esports betting which is exactly like betting on traditional sports. All you have to do is pick a tournament or event, then choose a match and place a bet.
Fantasy Betting

Players can place fantasy Esports bets on their favorite Esports, which is the same as betting on traditional fantasy sports. You can bet on players or teams which will win you cash with their in-game performances, whether that's winning a match or completing pre-determined goals.
Betting on Streamers

In this term, Betting on streamers means laying down bets on specific elements of an Esports player's gameplay, as they stream the match on a streaming platform.
Betting on Yourself

Yes, you've read that right. There is an option to bet on yourself playing video games, which allows you to win real cash when machining specified accomplishments within a certain Esports game.
Betting on Item & Skin

This type of betting involves some form of virtual currency from a betting site that usually comes as certain in-game items or graphic downloads for the characters or games.
Esports Pool Betting

Pool betting involves all of the bets that are present on a particular market pooled together and the total amount (minus the fee) divided between the winners.
Social Betting and Challenge Betting

Social betting is a type of bet that is placed within a group on the outcomes of games. While challenge betting is a bet that is between two people, where one is challenging the other.
Best Esports Betting Tips – By BetCraving Experts
BetCraving experts are here to give you one important piece of esports betting advice before you take your first step.
Do your research and join the Esports community
Statistics and data are some of the main features of Esports. There are many esports players and there are even more analysts in the Esports forum and online community. You are one button away from resources like Reddit and observe the data and odds before placing your bet.
All esports betting tips won't be 100% failsafe but it is still a good way to learn about the game.
Conclusion
Esports betting is still new and a strong growth industry that no bookmakers can ignore. Taking part or betting on Esports tournaments is one of the biggest activities in the world right now.
In addition, the pandemic radically boosts the growth of this industry globally. BetCraving experts suggest that esports could generate 3.2 billion dollars of annual revenue by the end of this year. Therefore, the popularity of esports betting is increasing while you are reading it. It is safe for BetCraving to say Esports betting will be the biggest rival of the traditional sportsbooks.
There are a few popular Esports betting platforms such as IA E-Sports and IM eSports and BetCraving recommends everyone to try them out! As more people are involved in Esports betting, the bigger market will be for us bettors!